Spring 2020 Makeup Trends: The Coolest Looks to Try Right TF Now
GETTY IMAGES
Spring's 2020 best makeup trends can be summed up in one word: FUN. Sorry to all of the low-key makeup people out there, but the days of no-makeup makeup and sheer washes of color are being put on pause for a bit. Makeup maximalists, now is your time to shine. And even if you aren't super bold with your makeup, these spring 2020 trends give you an excuse to be a little more over the top. Pull out your multi-shade palettes and your colored liners—this spring, it's all about mixing and matching the fun stuff, like intensely pigmented shades, bright neons, glossy textures, and lots of sparkle. Keep scrolling for the 15 best spring 2020 makeup trends you're going to want to start wearing, like, now.1Spring 2020 Makeup Trend: Eye Embellishment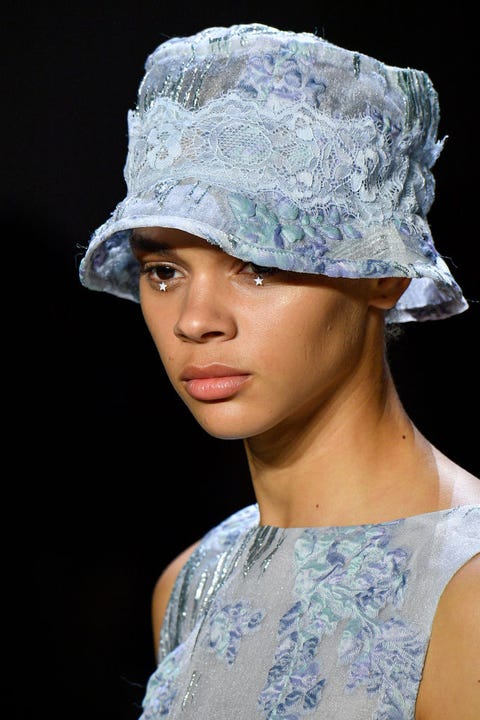 VICTOR VIRGILEGETTY IMAGES
Feeling down? Inbox overflowing? Just put a sticker on it. Lol really though, how could you not be in a good mood when you're wearing stars on your face?!? Place a star or two on your face (like the ones seen here at Anna Sui's spring 2020 show) as a quick eye makeup pick-me-up.
TRY THE SPRING MAKEUP TREND: This one is super easy—keep your eye makeup bare (or neutral), grab a sticker, and pop it on.2Spring 2020 Makeup Trend: Glitter Smokey Eye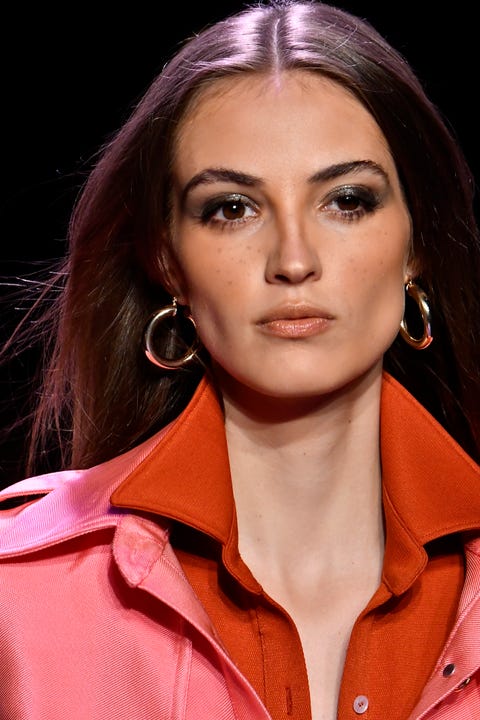 VICTOR VIRGILEGETTY IMAGES
Forget the matte smokey eye that you've worn every weekend since middle school (no shade). The glitter smoky eyes at Brandon Maxwell's spring 2020 show are a new way to level up the tried-and-true look.
TRY THE SPRING MAKEUP TREND: Swipe on a primer (it'll make sure your shadow doesn't slide all over your lids) and then tap a shimmery, silver eyeshadow on top.3Spring 2020 Makeup Trend: Free Floating Eyeliner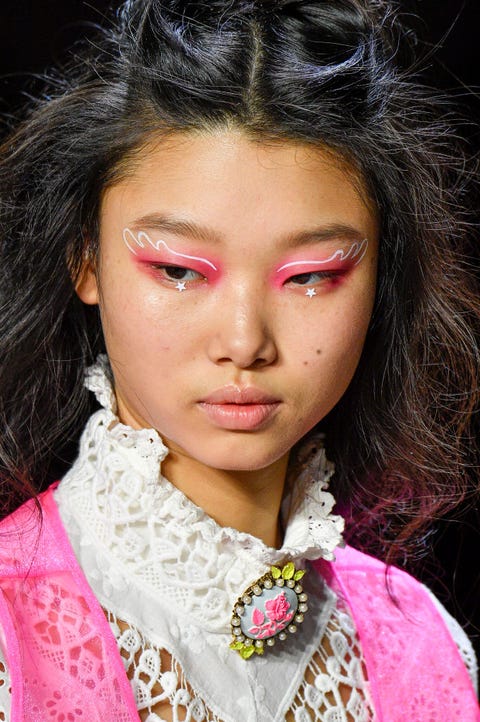 VICTOR VIRGILEGETTY IMAGES
I'm going to let you in on a little secret. Eyeliner doesn't have to live on your lash line. *Gasp*. I know, I was shocked when I found out, too. But, TBH, breaking rules and trying out new things is what makes makeup FUN. So, this spring, take a page from Anna Sui's spring 2020 show, and freehand a floating liner look.
TRY THE SPRING MAKEUP TREND: After you finish applying your eyeshadow, take a pencil eyeliner and draw a line across your lid. You can also make the line into a shape, like the top of a cloud, or the tops of angel wings, seen on the model here.4Spring 2020 Makeup Trend: Sparkly Eyes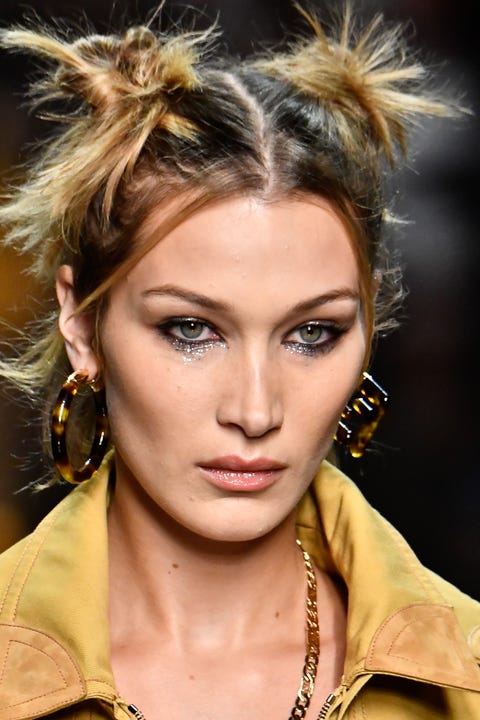 VICTOR VIRGILEGETTY IMAGES
A quick lil beauty PSA for ya: Euphoria-inspired makeup is here to stay. Need proof? Just check out Bella Hadid's sparkly eyes backstage at the spring 2020 Fendi show. They're sooo pretty.
TRY THE SPRING MAKEUP TREND: First, rim your eyes in a black kohl liner—the smudgier the better—then tap some silver glitter underneath your eyes. (Side note: This is a really great way to hide dark circles.)5Spring 2020 Makeup Trend: Neon Cat Eyes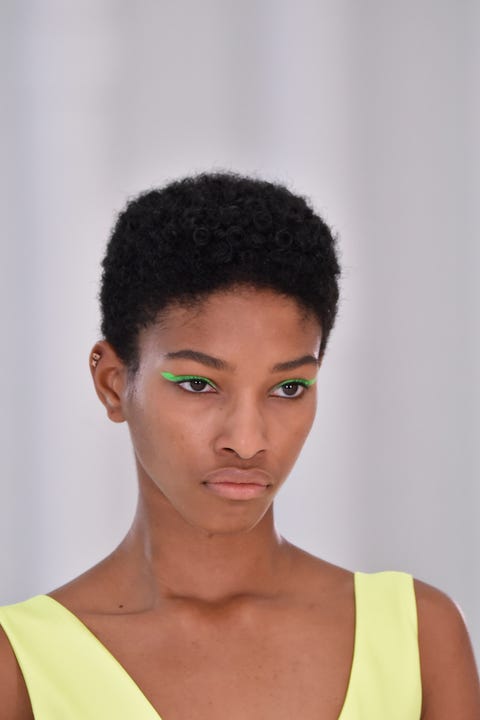 PETER WHITEGETTY IMAGES
Love a cat eye? Great, because they're officially trendy for spring. Just make sure to swap your basic black liquid liner for a bright, neon-colored one (like the green shade shown here at the Helmut Lang show).
TRY THE SPRING MAKEUP TREND: Use a bright green eyeliner (liquid or gel pencil, whichever you prefer) to draw on a thick, winged look.6Spring 2020 Makeup Trend: Red Lipstick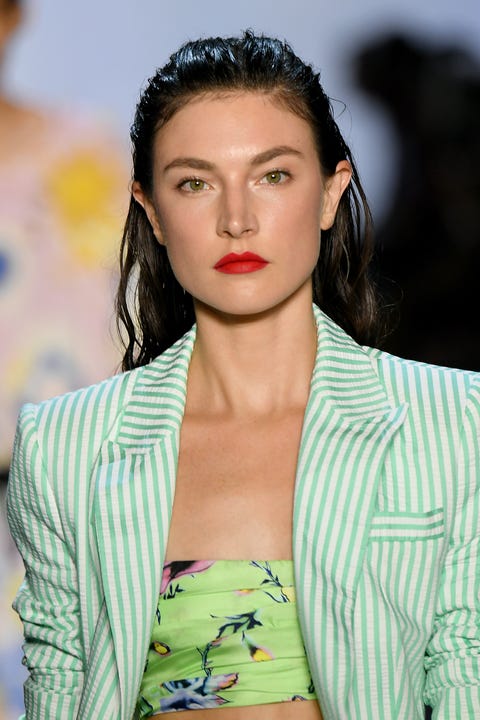 MIKE COPPOLAGETTY IMAGES
Red lips, in one form or another, pop up on the runways every season. This year, I'm obsessed with the red lips at Prabal Gurung's spring 2020 show. The combo of matte, cherry-red lipstick, clean skin, and bold brows look more cool, less classic.
TRY THE SPRING MAKEUP TREND: Prep lips with a lip scrub first (flakes and roughness are amplified by matte textures), then swipe on a red matte lipstick.7Spring 2020 Makeup Trend: White Liner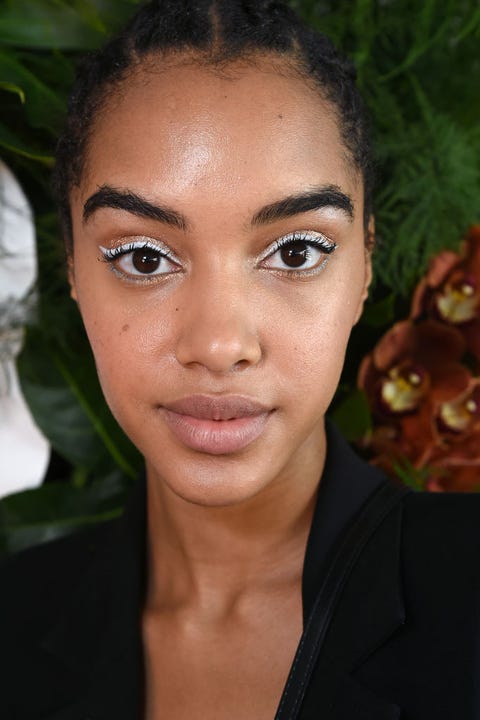 YUCHEN LIAOGETTY IMAGES
If you're down to experiment with cool eye makeup, but aren't brave enough for, say, neon liner or full-on glitter eyeshadow, the white eyeliner trend is a great way to get your feet wet. It's fun, fresh, and feels completely unexpected—but not overly extra.
TRY THE SPRING MAKEUP TREND: Grab a creamy, white eye pencil and use it to line your eyes or create a cute lil' flick, like the models at the spring 2020 Pamella Roland show.8Spring 2020 Makeup Trend: Allover Gloss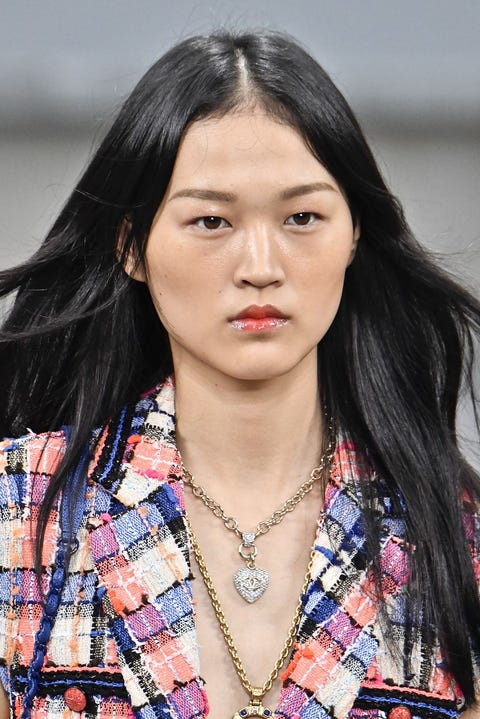 VICTOR VIRGILEGETTY IMAGES
The makeup vibe at Chanel's spring 2020 fashion show? Gloss, gloss, and more gloss. Seriously—models wore it on their lips, lids, and skin…it's that big of a trend for spring.
TRY THE SPRING MAKEUP TREND: Use clear face gloss (Aquaphor works in a pinch) and tap it on your lids, cheekbones, down the bridge of your nose, and on your lips. If you want a little extra color on your lips, just layer the gloss over a lipstick or tinted lip balm.9Spring 2020 Makeup Trend: Ombré Eyeshadow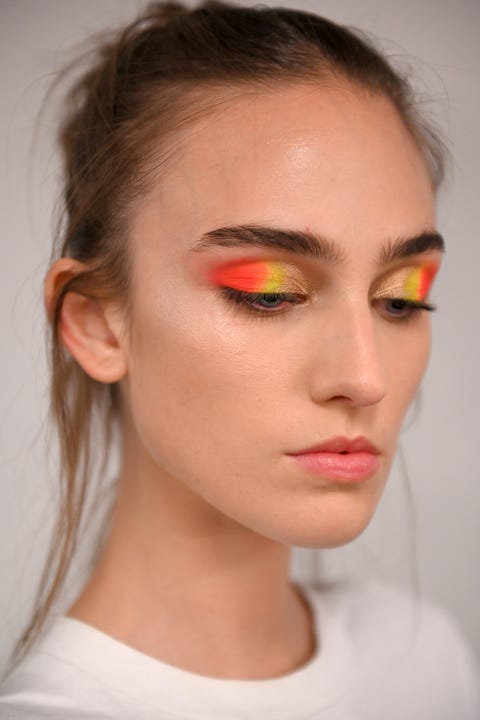 JENNY ANDERSONGETTY IMAGES
This multicolor ombré eye from the Nicole Miller show is perf for all your spring festivals. I mean, it pretty much screams "WEAR ME TO COACHELLA." You can choose whichever combo of colors you want, but I'm super into the gold, yellow, and orange gradient going on here.
TRY THE SPRING MAKEUP TREND: Prep your lids with an eyeshadow primer first. Then take a sparkly gold shadow and tap in onto your inner corners, use an opaque yellow shadow on the center of your lids, and a bright orange on the outer third.10Spring 2020 Makeup Trend: Contrasting Color Combos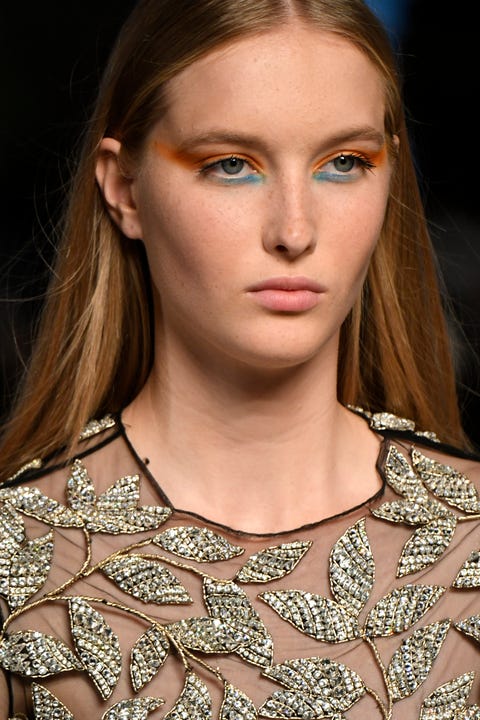 VICTOR VIRGILEGETTY IMAGES
Wearing two different contrasting eyeshadows like the models at the Oscar de la Renta show is one of the coolest ways to experiment with color this spring. Choose two eyeshadows that sit opposite each other on the color wheel, and swipe one across your lids and the other along your lower lash line.

TRY THE SPRING MAKEUP TREND: Copy this model's look by combining burnt orange and bright blue cream or powder eyeshadows. Finish off the look with a few coats of black mascara.
11Spring 2020 Makeup Trend: Fluorescent Creases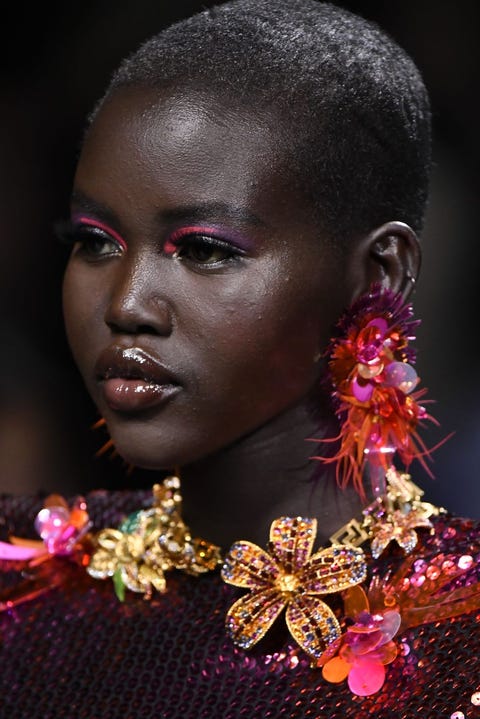 SAVIKOGETTY IMAGES
This fluorescent-pink crease liner from the Versace spring 2020 runway show is two trends in one. The floating liner trend (aka wearing liner somewhere between your lash line and brow bone), AND the neon color trend. It'll look super-effing cool with all your floral spring dresses, too.
TRY THE SPRING MAKEUP TREND: Grab a bright eyeliner (Urban Decay makes a ton of fun shades) and draw an upside-down swoop from your inner corner to the middle of your eyelid. You can stop there, or continue the swoop using another eyeliner color (the model here paired hot pink and deep plum).
12Spring 2020 Makeup Trend: Goth Lipstick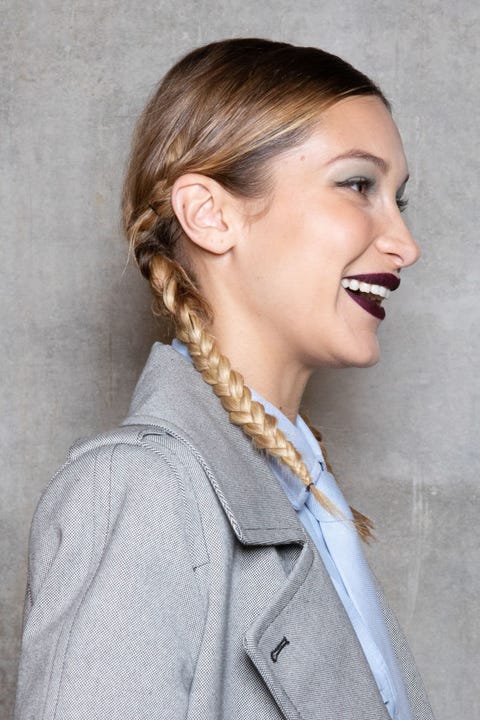 ROSDIANA CIARAVOLOGETTY IMAGES
Pink lipstick for spring? Groundbreaking. Take inspo from queen Bella at Max Mara's spring 2020 runway show and swipe on a vampy, almost-black lipstick instead. It looks totally badass, especially against neutral clothes.
TRY THE SPRING MAKEUP TREND: Hydrate your lips with a lip balm first, then swipe on a dark violet or black lipstick. Bonus points for pairing it with a sheer, gray shadow on your lids.13Spring 2020 Makeup Trend: Pastel Blue Eyeshadow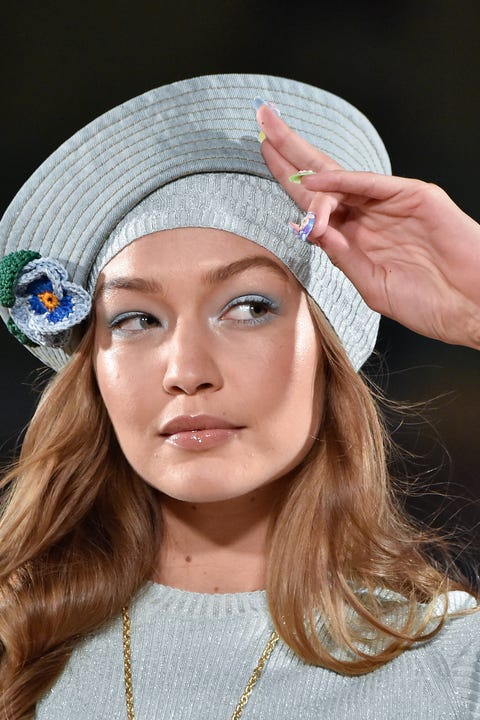 PETER WHITEGETTY IMAGES
You can always count on Marc Jacobs to send models down the runway with a makeup look you're going to want to start copying ASAP. Enter this pale, pastel blue eyeshadow on Gigi Hadid, which you're going to start seeing all over Insta in the upcoming months.
TRY THE SPRING MAKEUP TREND: Use a fluffy eyeshadow brush to sweep pastel blue eyeshadow across your lids and along your lower lash line.14Spring 2020 Makeup Trend: Sapphire Eyes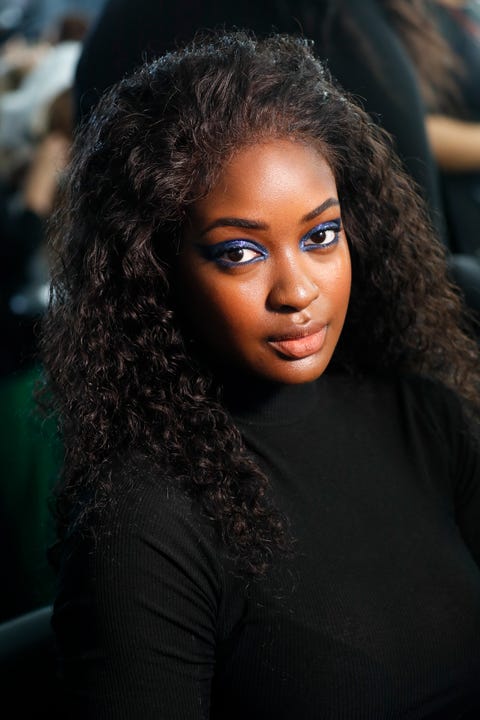 PAUL MORIGIGETTY IMAGES
Jewel tone eyeshadow, like this bold sapphire shade worn on the models at the spring 2020 LaQuan Smith show, is having a serious moment. Probably because it makes any and every eye color look absolutely gorgeous.
TRY THE SPRING MAKEUP TREND: Fill in your lids with a navy liquid eyeshadow first, then use an eyeshadow brush to press sparkly blue powder eyeshadow right on top. By layering the two together, you'll create dimensions and crazy-good color payoff.
15Spring 2020 Makeup Trend: Purple Underliner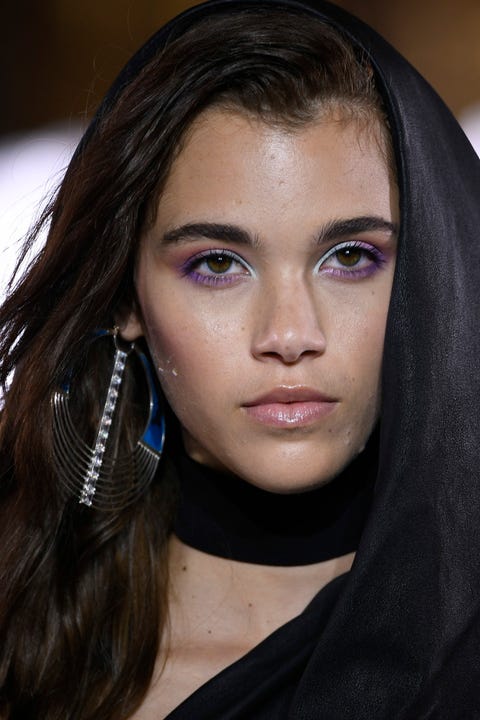 VICTOR VIRGILEGETTY IMAGES
ICYMI, purple is the new millennial pink—aka it's the new trendy color that's taking over the beauty world. Wear it along your lower lash line like the models at the spring 2020 Balmain show—it'll look super pretty for the spring season.
TRY THE SPRING MAKEUP TREND: Use your fingers to gently run a purple cream eyeshadow under your lower lashes.Finish the look with some black mascara and a touch of blue shadow at your inner corners.